2022 was the year of the Great Resignation: about 50.5 million people quit their jobs in America alone. Though the pace of resignations has slowed in 2023, employee retention is still a significant concern for many businesses globally. Some economists predict that the business sector will see a turnover rate as high as 24% in the coming years.
Low employee retention is a crisis for many companies. Replacing an employee costs on average between one-half and two times their annual salary. Companies are also losing valuable internal knowledge and innovation every time an employee leaves. That makes increasing employee retention a crucial metric for company success.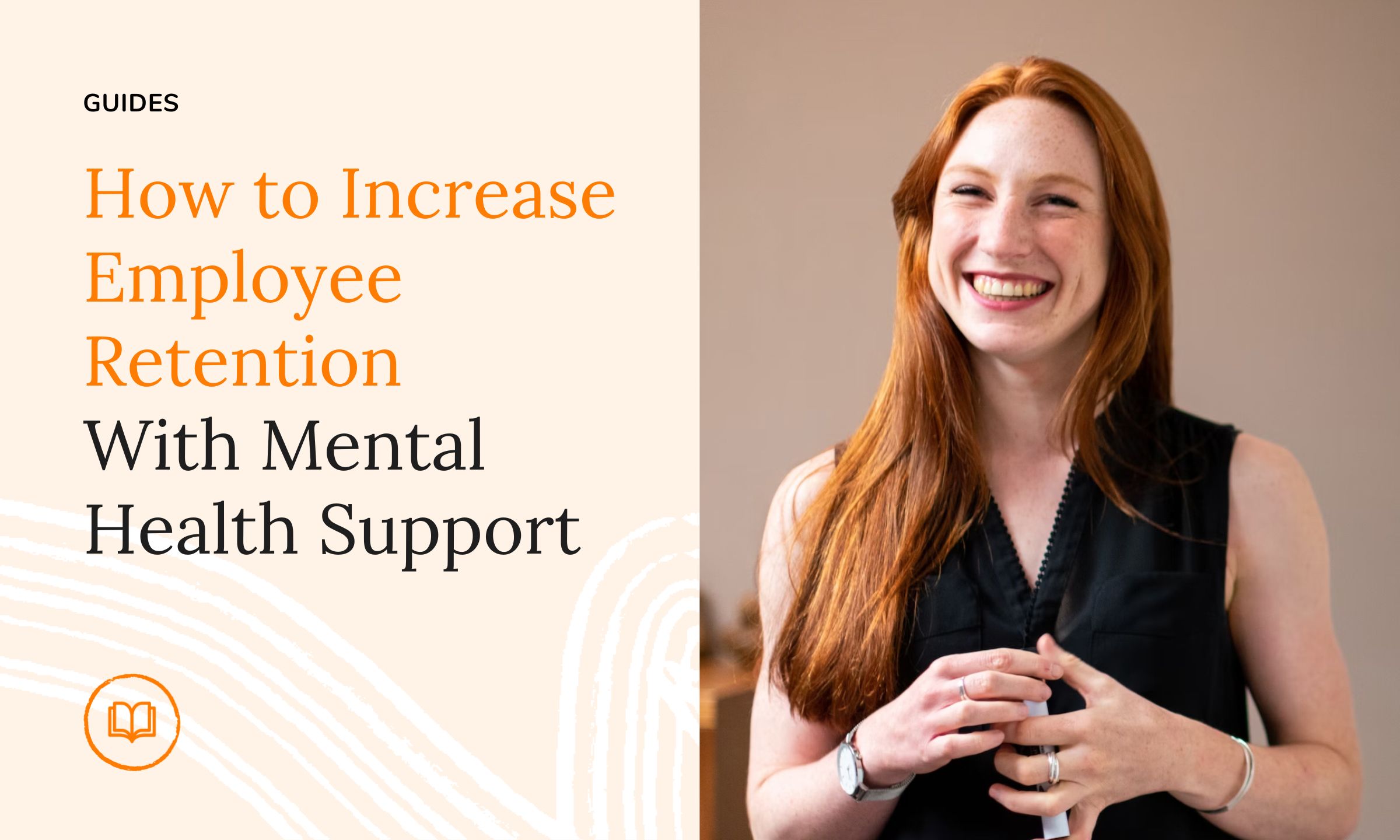 For HR leaders, too, retention is a crucial issue. It makes your job easier, ensuring that you can focus on growth and company culture success, rather than your days becoming a revolving-door job of replacing employees. And it's a key performance indicator for many HR departments. So how can you integrate one simple strategy to increase employee retention at every level?
Mental health support to increase employee retention
Employee mental health support makes a massive difference in increasing employee retention. One of the top three reasons employees leave their jobs is burnout, which is preventable with the right employee mental health support. Similarly, employee disengagement—or "quiet quitting"—often leads to an actual resignation. But mental health support boosts engagement and stops burnout in its tracks.
Mental health support leads to 60% less turnover
79% of employees are likely to stay at a company that supports their mental health
Why does mental health support increase employee retention?
The stats are clear. But what is it about mental health support that works so well to increase employee retention? There are a few key reasons:
How do we do it at nilo.health?
One of our key visions here at nilo is the importance of preventative mental health care. Preventative means that you step in before you "see" problems, in order to stop crises happening down the line. For example, 85% of users use nilo.health for preventable reasons. And it works: 71% of users struggling with stress improve after using nilo.health.
Looking at turnover, this means that you don't have to intervene at the point when your employees are deciding to quit. Rather, you implement mental health support in the early days so that your employees don't want to quit in the first place. The result? Less turnover and greater employee happiness, productivity and engagement.
At Forto, over 50% of employees are active with nilo.health, making it the benefit that is most used and beloved. "At Forto, nilo.health is our team's most loved benefit and a strong driver in recruitment," says Michael Wax, founder and CEO of Forto.
At TIER, Teresa Dinges, Learning and Development Manager, says, "I have never experienced such gratitude and thankfulness for any benefit or anything we've introduced!"
Want to boost retention at your company? Let's talk.