Mental health support is an everyday requirement, not just for special occasions. Yet at nilo.health, we know that there are specific situations where mental health support is urgently needed; times of crisis when an individual or company needs extra care and preventative action to keep them safe.
In this case study, we'll break down the actions nilo.health took to provide extra care and support during a crisis situation with one of our users.

nilo.health takes client confidentiality very seriously. As a result, we have given our client a pseudonym and modified events to make them unrecognizable.
Background
Andy R. had been having a complicated few years. He'd had some exciting events—a big promotion, a new baby—but also experienced some loss. Andy had never sought out counseling before. Though he'd had some "low months" in the past, they'd always passed of their own accord.
However, Andy began experiencing persistent feelings of sadness. He had trouble sleeping and no longer enjoyed the activities he used to love, like playing football or spending time with his kids. And it was affecting his work: Andy missed deadlines and seemed distracted at work.
A manager at his company noticed that he seemed unlike himself. The manager suggested that Andy use nilo.health's services, which the company they worked for provided.
Approach
nilo.health's user intake questionnaire raised serious red flags for the operations team, who understood the urgency of the situation. Andy was immediately matched with a leading global psychologist who specialized in mood change and depression, with the option for same-day counseling sessions from the very beginning.
In their sessions, Andy's psychologist created a safe space for him to express his feelings, thoughts and concerns, while exploring the roots of Andy's depressive symptoms. The psychologist incorporated evidence-based CBT techniques to address negative thought patterns and help Andy develop healthier coping strategies.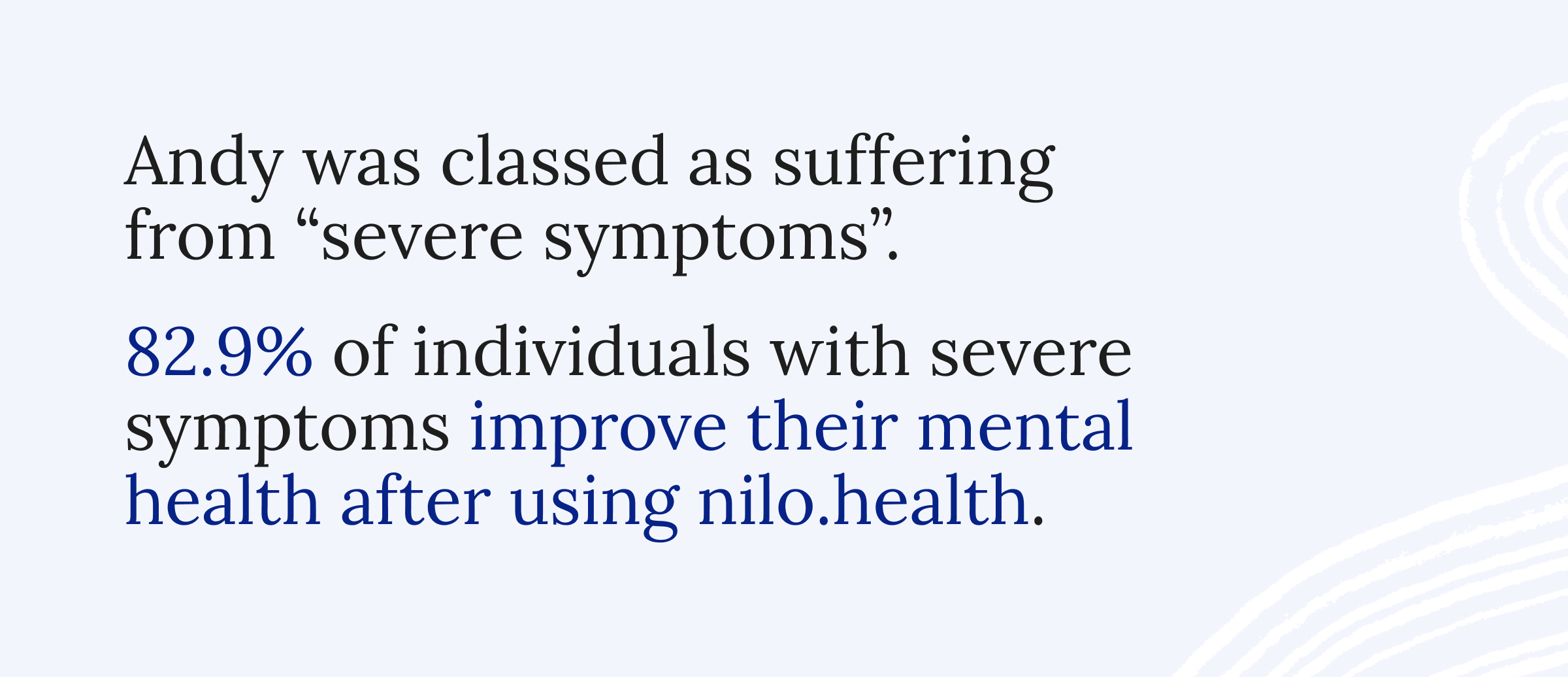 Alongside, Andy's psychologist recommended he use nilo.health's self-guided library in his own time. Andy accessed lessons, reflection exercises and meditations on subjects such as "Question your thoughts", "Detach from negative thoughts" and "Build healthier habits". He focused on challenging cognitive distortions and promoting positive behavioral changes.
Andy began to feel much better, yet both Andy and his psychologist recognized that he needed ongoing support and care beyond nilo.health's services. As a result, nilo.health provided Andy with information on outpatient care, alternative points of contact and crisis hotlines. In the meantime, Andy kept working with his psychologist at nilo.health to work on his coping skills and emotional wellbeing.
Outcomes
The combination of counseling sessions and self-guided exercises on nilo.health's platform yielded very positive outcomes for Andy.
By the numbers:
Andy was classed as suffering from "severe symptoms"; 82.9% of individuals with severe symptoms improve their mental health after using nilo.health
88.6% of individuals with severe symptoms improve their depression after using nilo.health
The average session feedback for nilo.health psychologists is 4.9 out of 5.
Andy also reported a strong improvement in mood, motivation and overall functioning, and he gained a greater understanding of his own mental health and well-being. Andy believed he had acquired effective coping mechanisms to manage future stressful life events and negative emotions.
Andy's company were also pleased, because they had been worried about Andy and concerned that he would no longer be able to manage working with them. However, Andy returned to work stronger and reinvigorated, and able once again to enjoy being part of his team.
To learn more about nilo.health's capacity to help your employees, get in touch today.